2019 Election Schedule |  2019 Election Procedures
CAPS Board of Directors Elections
Candidate statements were due to the CAPS Elections Committee by 5 p.m. on Monday, August 12, 2019. The Elections Committee has met and ensured that the candidate statements posted abide by the rules set forth in the CAPS Bylaws and Elections Procedures.  Below you will find the list of candidates in contested seats for 2019-2021 CAPS Board of Director positions. Per past practice, the candidates are presented in the order they were picked out of a hat – the same order that they will appear on the ballot:
Article 8, Section 3(j) of the CAPS Bylaws state "Any qualified candidate shall be elected by acclamation, without the need for balloting, whenever that candidate is the only qualified candidate whose name will appear on the ballot for that seat." The following positions for the Board of Directors seats were unopposed. Thus, the following candidates have been elected by acclamation:
| | | | |
| --- | --- | --- | --- |
| President | Margarita Gordus | CDFW – Fresno | Senior Environmental Scientist (Specialist) |
| District II Director | Maureen Lee-Dutra | CDFA – Tulare | Veterinarian (General) |
| District III Director | Justin Garcia | CDFW – Sacramento | Environmental Scientist |
| District IV Director | David Rist | DTSC – Berkeley | Senior Environmental Scientist (Specialist) |
| District V Director | Monty Larson | CDFW – Fortuna | Environmental Scientist |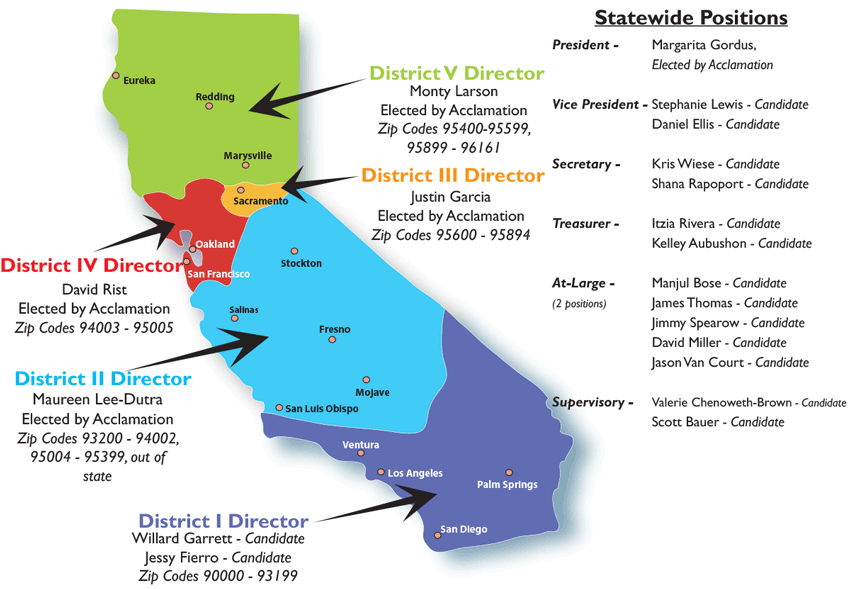 Next Steps
Ballots will be mailed out to members on September 20, 2019. Voting will take place by secret ballot via U.S. mail, returned to a PO Box owned by MK Elections, the independent elections service administering the election.
Be sure you and your colleagues are CAPS members, as only members are able to cast a vote. If you are a member, be sure that your mailing address is up to date by contacting ! Ballots must be returned by October 7, 2019. The ballot count will be held October 14, 2019 in Sacramento. CAPS members are welcome to attend.